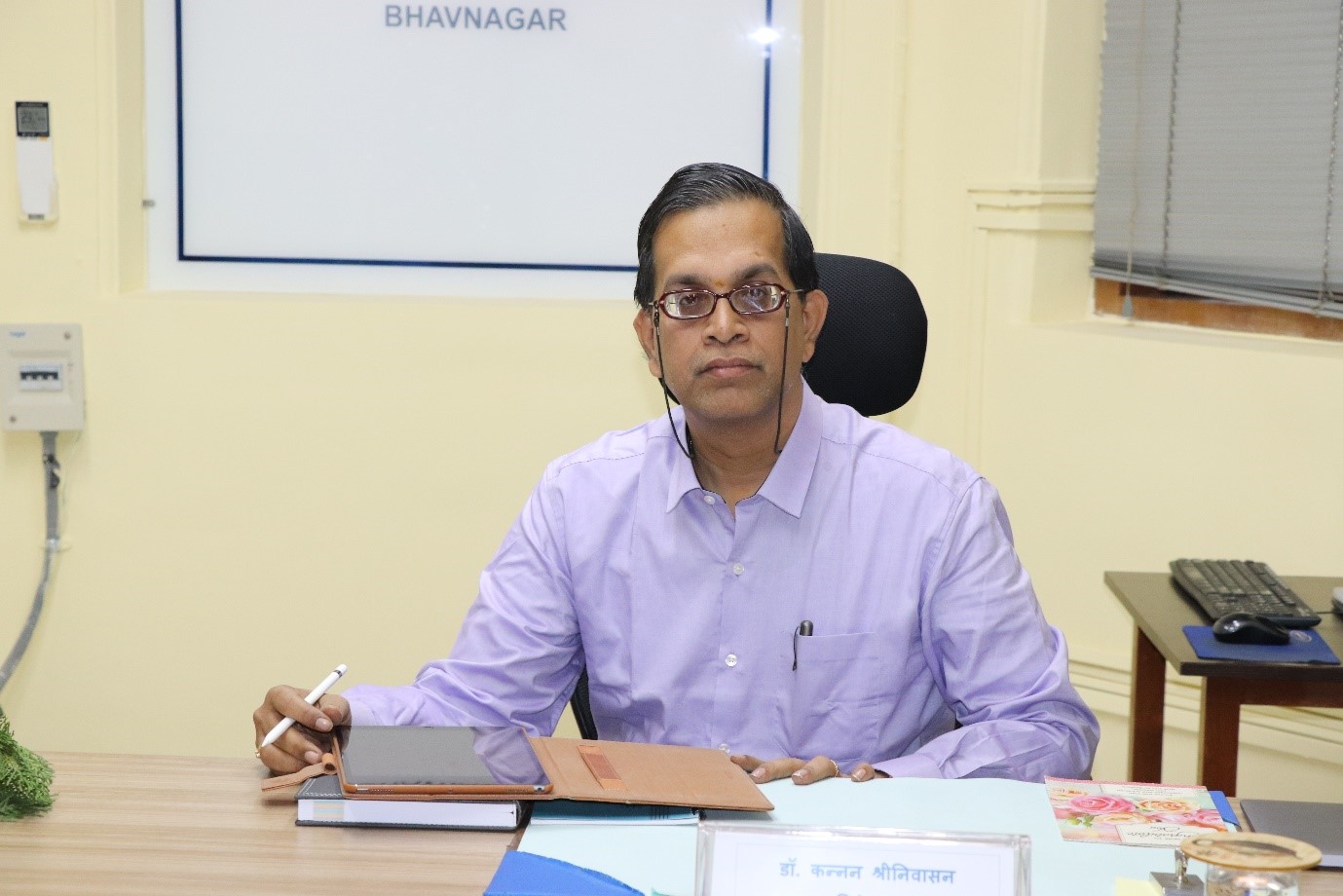 Welcome to
CSIR-Central Salt and Marine Chemicals Research Institute!!
I do understand the visit to our website might be for various reasons: like, what we can offer in terms of technical & technological solutions, what services including training/skilling this institute can render, what HR opportunities it bestows, what new science the institute has been doing and positioning internationally, what intellectual value it has or possibly a craving to study the S&T scenario of public funded research institutions like ours, to name a few.
I am privileged to head this institution, the only institute in Gujarat under Council of Scientific & Industrial Research, which has history that dates back roughly 66 years. It is indeed long. The predecessor leaders have set the tone and have continuously strived to take this great institution from strength to strength.
When a new solider takes guard of an organization, it is always a pensive moment for that person and I am no different. The only advantage I have is that I knew this institute for over two decades having been diligently associated with it.
The institute broadly has three sciences verticals namely Chemical, Biological & Engineering. Under the Chemicals vertical, the institute engages on salt & marine chemicals, inorganic materials & catalysis, analytical & environmental sciences, and natural products & green chemistry. Under Biologicals vertical, it has applied phycology & biotechnology, plant omics with focus on high end biology of saline tolerant plants; and, under Engineering vertical, we have chemical including biochemical processes design & engineering, mechanical engineering in terms of plants/devices/gadgets fabrication including using renewable sources and civil engineering with an emphasis on salt works.
Scientists and engineers engaged in this versatile spectrum contribute very rich knowledge in the advancement of these disciplines through development of processes/technologies, patents and high impact research publications
I am pleased to state here in 2020-21, the institute had over 221 research publications in peer-reviewed journals of international repute with an average impact of 4.49 (with a cumulative impact close to 1000, highest in the history of this institute), granted 41 patents & filed 20 patents and trained/groomed/sensitized over 600. Over the last four years, the institute has licensed technologies to 22 companies/entrepreneurs/start-ups, granted 112 patents, produced over 111 doctorates, skilled and groomed through different programs over 5,500 school students, young researchers, coastal populace with focus on women empowerment and entrepreneurs.
No wonder when SCIMAGO announced their ranking recently, the institute at 33rd position in India among the 331 institutions it assessed.
The institute currently has a large number of young researchers who are extremely passionate and have tremendous zeal to work on several of these domains complimented by wisdom and experience of senior researchers. The institute has world class centralized instrumentation analytical facility, knowledge resource platforms backed up with state-of-art information services and an augmented engineering services division with a creative workshop. The institute has a great passion to contribute to the welfare of society and industry through its scientific and technological interventions. I am sure you would be looking either for benefiting or contributing in this endeavour. Come and be part of us in making our society/industry better. As we are celebrating India @ 75 through Azadi Ka Amrut Mahotsav, we shall jointly create proud moments for India through Scientific & Technological interventions in the years to come.
Should there be suggestions/improvements/inclusions would you like to offer, please feel free to drop a mail @ director@csmcri.res.in