The activities are centred around the development of novel cost-effective processes of improving quality & yield of solar salt and for the recovery of valuable marine chemicals like potash and magnesium chemicals. We create value addition in solar saltworks through bittern and saline waste management, recovery of freshwater, the greening of salt works and maximization of solar energy usages. The division has expertise in land survey, design & layout of salt works. We are also conducting various training programs to generate skilled manpower to cater to salt industries.
Skill Development Programs:
The division is conducting periodic training programs for salt manufactures and salt officials at various levels to educate them to produce good quality of salt in field. Recently we have also started a "Certificate Course in Solar Salt Technology" under skill India initiative of CSIR-CSMCRI with an objective to cater trained people to salt and salt based industries which will indirectly improve salt production of India (both quality & quantity) by adopting scientific approach by trained persons and will create self-employment.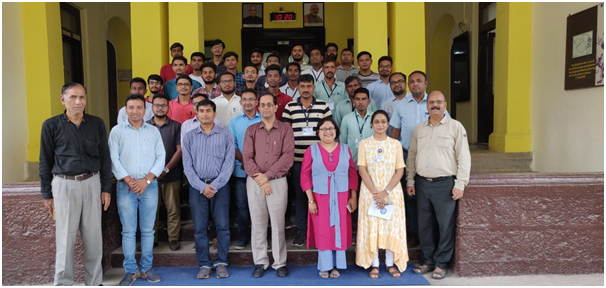 Skill Initiative Programme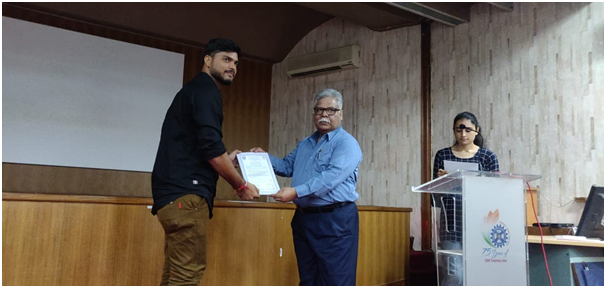 Certificate distribution by ISMA's President Mr.Bharat Raval.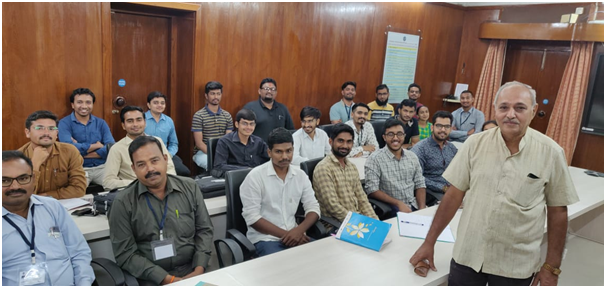 Expert lecture delivered by Dr. A.M. Bhatt (Ex. Sr. Principal Scientist, CSIR-CSMCRI).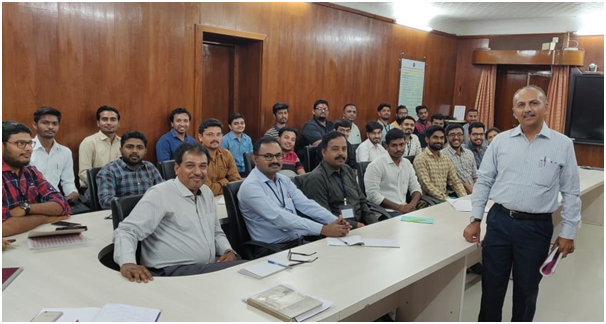 Expert lecture delivered by Chetan Kamdar (Bhavnagar Salt Works, Bhavnagar)
Capabilities
Survey of saline lands.
Design and layout of solar salt works suiting to any type of brine viz. Sea/sub-soil or Lake brine.
Establishing Model Salt Works at various parts of the country to demonstrate the best practices of salt manufacture.
High purity solar salt technologies
Improvement of quality and quantity of solar salt in field from sea/sub soil and lake brine.
Spherical salt for speciality applications.
Iodide free salt and salt with proper calcium to magnesium ratio suitable for chloroalkali industries.
Fortification of common salt with essential nutrients such as iodine, zinc, iron etc
Salt for specialty applications
Recovery of value added bittern based products like low sodium salt, Potassic fertilizers (MOP and SOP) and Magnesium chemicals of improved quality integrated with salt production.
Semi mechanization salt works with low cost and indigenous implements.
Maximization of solar energy usages in solar salt works.
Skill development of salt producers.
Fundamental studies-on brine systems and ionic liquids.
Conducting training programs for salt manufacturers and industrial personnel of various level.
The recent innovations have accredited the following US patents to the institute
Production of high purity salt with reduced levels of impurities, International application No. PCT/IN2013/000217, International filing date 02/04/2013.
Cost-effective natural salt formulations for seawater substitution, mineral fortification and processes thereof, Pub. No. WO 2013/098857 A1.
A cost effective process for the preparation of solar salt having high purity and whiteness *, Patent No. WO 2007036949 ,dated: 5th April 2007,EP 1928569 B1 ,dated: 16/03/2011
Novel Integrated Process for the Recovery of Sulphate of Potash (SOP) from Sulphate Rich Bittern*, U.S. Patent No. 7,041,268 ,dated 9th May 2006,EP 1945567B1 ,dated: 21/07/2010
A process for the preparation of magnesia (MgO), US 7,811,535 B2 Dated: 12th Oct 2010
A process for the preparation of Magnesia(MgO) From Crude Mg(OH)2, US patent application No. 12/400,512 dated: 09/03/2009
100-500 micron size spherical sodium chloride having improved flow and process of preparation from brine thereof, US patent application No. 12/205697 dated: 05/09/2008
Improved Process for Simultaneous Recovery of Industrial Grade Potassium Chloride and Edible Salt Enriched with KCl (Low Sodium Salt) from Bittern, U.S. Patent No. 7,014,832, dated 21st March 2006
A Process For Recovery of Low Sodium Salt from Bittern*, U.S. Patent No. 6,890,509, dated 10th May 2005
A novel device for estimation of brine density in solar saltworks from afar, U.S. Patent No 6,865,942, dated 15th March 2005
Recovery of Common Salt and Marine Chemicals from Brine*, U. S. Patent No. 6,776,972 dated 17th August 2004
A cost effective process for the preparation of solar salt having high purity and whiteness, US Patent No. US 8,282,690
An improved process of preparation of common salt of high purity from brines in solar salt pans*, US Patent No. 8,021,442
A Process for Recovery of Common Salt and Marine Chemicals from Brine in Integrated Manner", US Patent No. 6,776,972 dated 17-08-2004
Process for the recovery of low sodium salt from bittern US Patent No. 6,890,509 dated May 10, 2005
A novel device for estimation of brine density in solar salt works from afar. US Patent No 6,865,942, DT. 15/03/2005
Improved Process for Simultaneous Recovery of Industrial Grade Potassium Chloride Edible Salt Enriched with KCl (Low Sodium Salt) from Bitter. US Patent Application No. 10/ 814,779 dated 30-03-2004
Novel Integrated Process for the Recovery of Sulphate of Potash (SOP) from Sulphate Rich Bittern US Patent Application No. 10/814,778 dated.30-03-2004
A cost-effective process for preparation of solar salt having high purity whiteness (US Patent application No. 11/992533 dtd: 25/03/2008, EP1928569)
Free flowing 100-500 micrometer size spherical crystals of common salt and process for preparation thereof (US patent PUB. 209 US2009176096 A120090709)
An Improved Process of the Preparation of Common Salt of High Purity from Brines in Solar Salt Pans (US patent application No. 12/240762 dtd: 29/09/2008)