Activities of Inorganic Materials and Catalysis Division
ABOUT DIVISION
Inorganic Materials and Catalysis Division of CSIR-CSMCRI has been working in diverse and highly applied research areas keeping "Fine Chemicals and Catalysis" as central theme for more than three decades. Numerous scientists with diversely specialized world-class training have contributed immensely in gaining insight of a variety of catalytic transformations that find potential significance in chemical, pharmaceutical, agrochemical and perfumery industries in the last few decades. Currently, the division functions 10 eminent scientists and about 40 research students. The scientists in this division recruited hold various accolades such as, AVH Fellow, JSPS, DST-NPDFs, DST – INSPIRE BOYSCAST, DAAD Fellow etc.
Core competency of this division is "Materials and Catalysis", this division has developed several homogeneneous and heterogeneous catalysts for industrially viable catalytic transformations with a special emphasis on, CO2 utilization for value added chemicals, specialty chemicals, hydroformylation, asymmetric transformations, selective oxidation, isomerization, biomass conversion to fuels and chemicals, photodegradation etc.
Under the CO2 conversion, this group has contributed to generate diverse value-added products such as formic acid, cyclic carbonates and other important building blocks.
The organic chemists working in this division are involved in developing efficient  process for the synthesis of various APIs and KSMs, which are exemplified by the synthesis of camostat mesylate and OTBN molecules for the medicinal use. An immense contribution made in the area of asymmetric catalysis using various chiral catalysts keeps the division of international repute.
Economically viable and environmentally friendly chemical processes for perfumery chemicals, e.g. Mefrosol, Rasbperry ketone, Campholenic aldehyde, Carveol, Jasminaldehyde, Styrene oxides, 2-Phenylethanol, iso-eugenol, iso-safrole, estragole, a-hexyl cinnamaldehyde  have also been developed and licensed few of them to several industries.
Under the "waste to wealth approach", scientists in this division has been successful in extracting lithium and other precious metals from the discarded/used batteries and spent catalysts.
Noteworthy technologies that were developed and by this division include the processes for Zeolite A & Zeolite X, precipitated & shaped silica, precipitated calcium carbonate (rubber & paper grade), calcium silicate (pharma grade), styrene oxide, 2-phenyl ethanol, Mefrosol (3-Methyl-5-phenylpentanol).
The division's output is well balanced by technology/process/product developments, quality publications in internationally reputed SCI journals and through various societal activities. IP rights protect some of those processes and a few of those are transferred to various industries/licensees. Importantly, a few of those catalysts/catalytic processes are being exploited commercially.  Few such technologies were successfully transferred to industries e.g.
Recently Transferred Technologies:
(US Patent 7,235,676; CSIR NF00932011)
Process for 2-Phenyl ethanol (2-PEA) via styrene oxide were transferred to:
BRU Speciality Chemicals Pvt. Ltd., Raipur.
Asian Azoles, Vapi.
Aquila Organics Private Ltd., Mumbai;
Process for Zeolite A was transferred to:
GMDC, Ahmedabad.
NALCO, Odisha
Gujarat Credo Minerals Industries Ltd., Ahmedabad.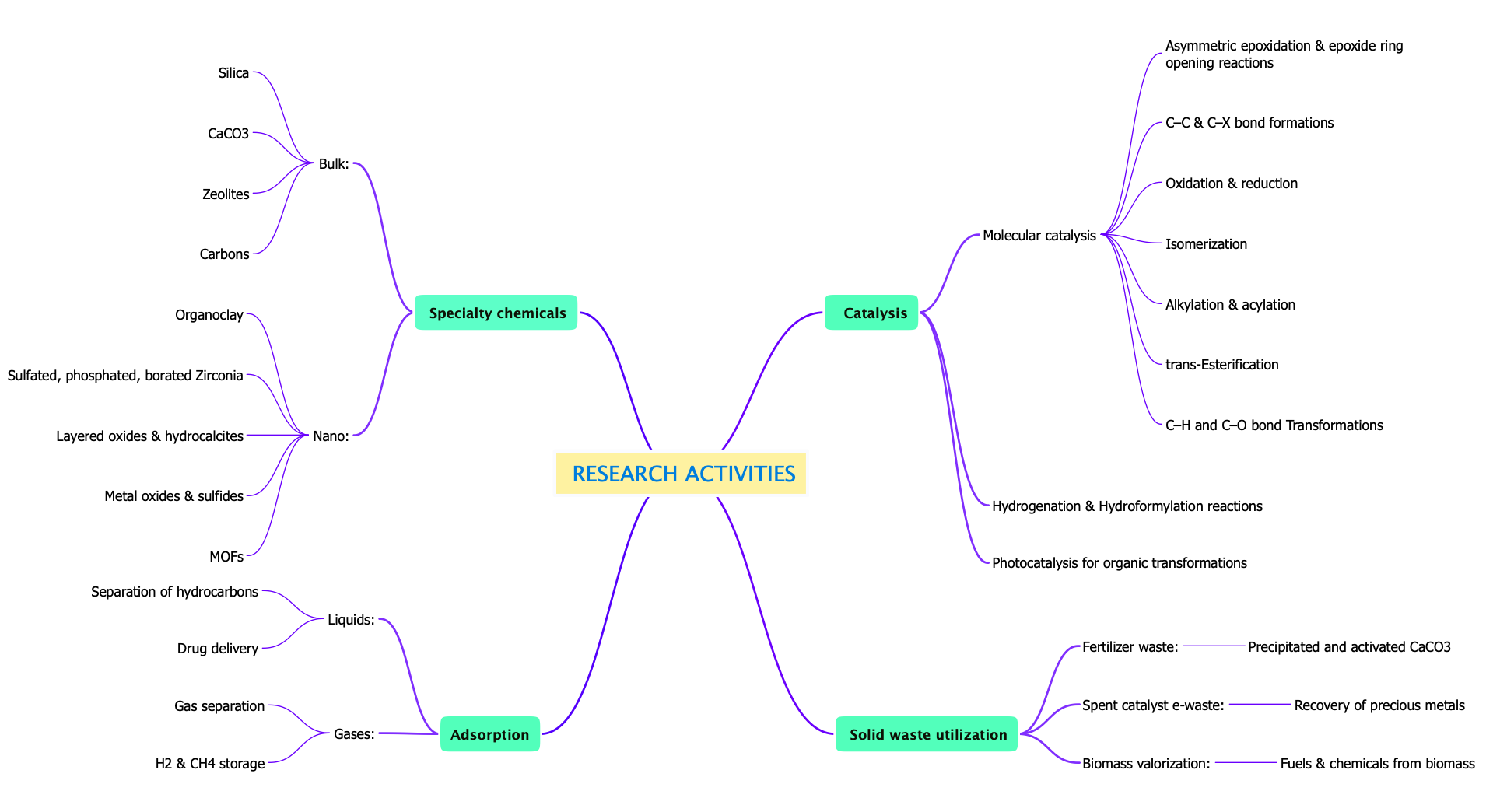 The division collaborates with other national laboratories both within CSIR fraternity and outside, academic institutions and industries on various research areas mentioned above.
Ready Technologies
Zeolite A & Zeolite X
Precipitated & shaped silica
Calcium carbonate (rubber & paper grade)
Calcium silicate (Pharma grade)
Styrene oxide
2-Phenyl ethanol
Mefrosol
Jasminaldehyde
Chiral epichlorohydrin
Iso-eugenol from eugenol
Iso-longifolene from longifolene
Formic acid from CO2
Butyraldehyde
Metal recovery from waste